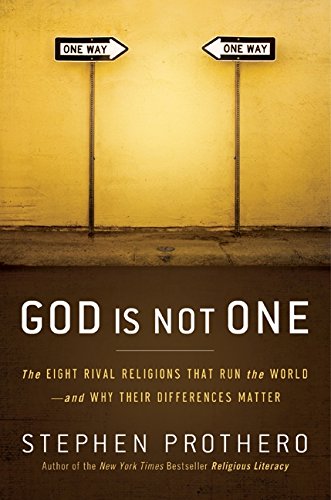 This Book Study runs from July 17 through September 4.
In eight chapters, Stephen Prothero sets out to evaluate eight of the world's religions:
• Islam: The Way of Submission
• Christianity: The Way of Salvation
• Confucianism: The Way of Propriety
• Hinduism: The Way of Devotion
• Buddhism: The Way of Awakening
• Yoruba Religion: The Way of Connection
• Judaism: The Way of Exile and Return
• Daoism: The Way of Flourishing
The author also offers a brief coda on Atheism: The Way of Reason.
Here are some of the high points in Prothero's express train ride through the religions. His valid insights into these different "ways" takes away some of the sting of his view of religions as rivals. Whereas the nineteenth and twentieth centuries may have belonged to Christianity, the twenty-first is in the hands of Islam with its mix of fundamentalists, moderates, and Sufi mystics. For Muslims the problem is pride, and the solution is submission.
Conservatives dominate Christianity with evangelicals and Pentecostal influences still exerting their power and presence. For these believers and others the problem is sin, and the solution is salvation.
Confucianism advocates overcoming challenges through character. This is done by cultivating ren (human-heartedness) and li (ritual, etiquette, propriety). Prothero confesses that Confucius is his "professional hero" thanks to his advocacy of learning as a pleasure and a means of becoming a better human being.
Hinduism is the umbrella term for a religious tradition that gave the world karma, reincarnation, and yoga. It puts a lot of emphasis upon devotional activities.
Buddhism is more about experience than it is about doctrine and it has much to say about suffering, speech, impermanence, and emptiness. In Buddhism, the problem is suffering and the solution is awakening.
In both Africa and in the America, Yoruba religion seeks to connect earth and heaven, human beings and orishas, and individuals with each other.
Judaism stands apart for being both a religion and a people. In this way, the problem is exile, and the solution is to return to God.
Prothero ends with an overview of Daoism with its emphasis upon nurturing life and flourishing as a human being.
Each religion, Prothero argues, has made a distinctive contribution to answering eternal questions and providing guidance for how to live one's life. Religious pluralism is alive and well in the world. Instead of trying to prove they are are One, he wants us to respect the diversity of religious faith and expression.
Book Review by Frederic and Mary Ann Brussat