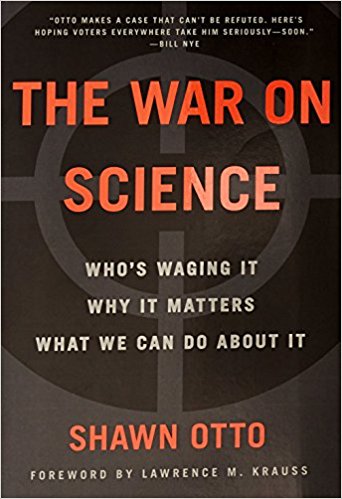 This book study begins February 18, 2018.
For the first time, this study is held in remembrance of one of our long time group members, June Moroney, who has contributed to our community for many years.
I don't know how long this study will last. It depends on how fast we get through the 13 chapters, so it could be anywhere from 7 to 14 weeks. Don't worry if you must miss a meeting or two. The subject matter is a departure from our normal religion based books, although religious issues are raised frequently.
From the Amazon website:
Winner of the MN Book Award for Nonfiction
"Wherever the people are well informed," Thomas Jefferson wrote, "they can be trusted with their own government." But what happens when they are not? In every issue of modern society - from climate change to vaccinations, transportation to technology, health care to defense - we are in the midst of an unprecedented expansion of scientific progress and a simultaneous expansion of danger. At the very time we need them most, scientists and the idea of objective knowledge are being bombarded by a vast, well-funded, three-part war on science: the identity politics war on science, the ideological war on science, and the industrial war on science.
The result is an unprecedented erosion of thought in Western democracies as voters, policymakers, and justices actively ignore the evidence from science, leaving major policy decisions to be based more on the demands of the most strident voices.
Shawn Lawrence Otto's provocative new book investigates the historical, social, philosophical, political, and emotional reasons for why and how evidence-based politics are in decline and authoritarian politics are once again on the rise, and offers a vision, an argument, and some compelling solutions to bring us to our collective senses, before it's too late.
You don't have to be a scientist to understand how science works, that it is a process rather than a product, and that it can be done well or poorly. It is in the best interests of humanity to do it well.