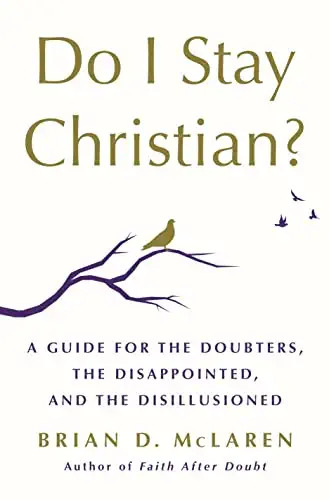 This bookstudy will begin October 2, 2022 only on Zoom.
Do I Stay Christian? addresses in public the powerful question that surprising numbers of people―including pastors, priests, and other religious leaders―are asking in private. Picking up where Faith After Doubt leaves off, Do I Stay Christian? is not McLaren's attempt to persuade Christians to dig in their heels or run for the exit. Instead, he combines his own experience with that of thousands of people who have confided in him over the years to help readers make a responsible, honest, ethical decision about their religious identity.

There is a way to say both yes and no to the question of staying Christian, McLaren says, by shifting the focus from whether we stay Christian to how we stay human. If Do I Stay Christian? is the question you're asking―or if it's a question that someone you love is asking―this is the book you've been waiting for.
In part one, McLaren lays out ten reasons for abandoning Christianity.
In part two, McLaren lays out ten reasons for remaining Christian.
After laying out reasons to leave and stay, Brian shifts to the third and final section of his book. He begins by asking, "Will we stay Christian? and Will Christianity survive? are less important questions than these: How shall we humans survive and thrive? What good future shall we strive for? How can we align our energies with the divine energy at work in our universe?