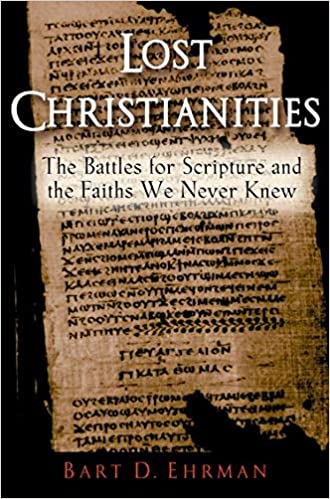 This bookstudy will begin July 25, 2021 only on Zoom.
We were really looking forward to meeting at home again, but it appears that not enough people are getting vaccinated.  No cookies yet.  Get those vaccinations and stay alive.
What if Marcion's canon—which consisted only of Luke's Gospel and Paul's letters, entirely omitting the Old Testament—had become Christianity's canon? What if the Ebionites—who believed Jesus was completely human and not divine—had ruled the day as the Orthodox Christian party? What if various early Christian writings, such as the Gospel of Thomas or the Secret Gospel of Mark, had been allowed into the canonical New Testament? Bart Ehrman is a professor of religion at UNC Chapel Hill and offers answers to these and other questions in this book, which rehearses the now-familiar story of the tremendous diversity of early Christianity and its eventual suppression by a powerful "proto-orthodox" faction. The proto-orthodox Christians won out over many other groups, and bequeathed to us the four Gospels, a church hierarchy, a set of practices and beliefs, and doctrines such as the Trinity. Ehrman eloquently characterizes some of the movements and Scriptures that were lost, such as the Ebionites and the Secret Gospel of Mark, as he outlines the many strands of Christianity that competed for attention in the second and third centuries. He issues an important reminder that there was no such thing as a monolithic Christian orthodoxy before the fourth century.
To join us call Peter at 255-8593 or email   plutz@sonic.net