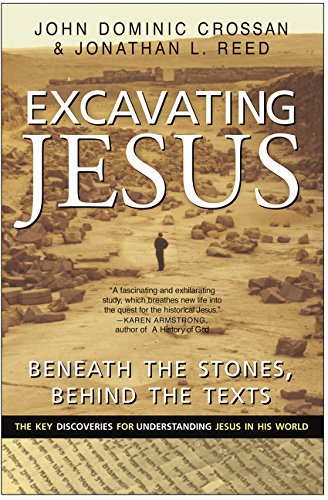 This book study begins January 10, 2021 only on Zoom.
Why did Jesus happen when and where he happened?  Why then?  Why there?  Sharpen the questions a little.  Why did two popular movements, the Baptism movement of John and the Kingdom movement of Jesus, happen in territories ruled by Herod Antipas in the 20s of the first common-era century?  Why not at another time?  Why not in another place?
Imagine two ways of answering those questions: by stone or by text, by ground or gospel, by material remains or scribal remains, by the work of the archaeologist or the work of the exegete.
The premier historical Jesus scholar joins a brilliant archaeologist to illuminate the life and teaching of Jesus against the background of his world. There have been phenomenal advances in the historical understanding of Jesus and his world and times, but also huge, lesser known advances in first–century Palestine archaeology that explain a great deal about Jesus, his followers, and his teachings. This is the first book that combines the two and it does it in a fresh, accessible way that will interest both biblical scholars and students and also the thousands of lay readers of Biblical Archaeology Review (150,000+ circulation), National Geographic, and other archaeology and ancient history books and magazines. Each chapter of the book focuses on a major modern archaeological or textual discovery and shows how that discovery opens a window onto a major feature of Jesus's life and teachings.