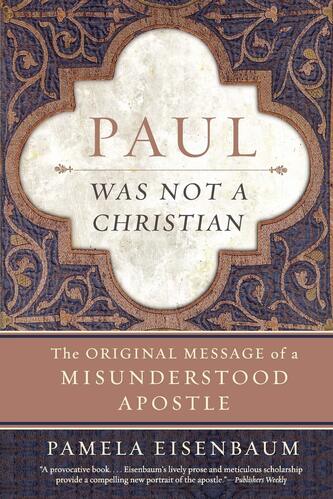 This bookstudy will begin June 25, 2023 only on Zoom.
This is a description of Paul from a Jewish perspective. It is based only on the 7 undisputed books attributed to Paul in the NT (but makes no mention of interpolations). Using this as a base, Pamela explains how Paul saw the world through Jewish eyes. Her thesis is that Paul was mostly interested in the short time left for the world and how to get the Gentiles into the covenant with god along with the Jews. A main point is that Paul was writing to the Gentiles, NOT his Jewish friends.
Pamela Eisenbaum, an expert on early Christianity, reveals the true nature of the historical Paul in Paul Was Not a Christian. She explores the idea of Paul not as the founder of a new Christian religion, but as a devout Jew who believed Jesus was the Christ who would unite Jews and Gentiles and fulfill God's universal plan for humanity. Eisenbaum's work in Paul Was Not a Christian will have a profound impact on the way many Christians approach evangelism and how to better follow Jesus's - and Paul's - teachings on how to live faithfully today.