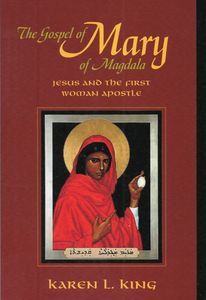 Jesus and the First Woman Apostle
By Karen L. King
Winn Professor of Ecclesiastical History at Harvard University
Lost for more than fifteen hundred years, the Gospel of Mary is the only existing early Christian gospel written in the name of a woman.  Karen L. King tells the story of the recovery of this remarkable gospel and offers a new translation.  This brief narrative presents a radical interpretation of Jesus' teachings as a path to inner spiritual knowledge.  It rejects his suffering and death as a path to eternal life and exposes the view that Mary Magdalene was a prostitute for what it is – a piece of theological fiction.  The Gospel of Mary of Magdala offers a fascinating glimpse into the conflicts and controversies that shaped earliest Christianity.
Elaine Pagles says: "Karen King's Gospel of Mary of Magdala is a book that many readers are waiting for. – a complete translation of the Gospel of Mary together with a lucidly written, marvelously informative discussion of where it comes from and what it means."
We will begin this study at 7:00 PM (until 8:30) on October 25, 2015 and finish with the classic potluck on December 13.  Of course there will be cookies.