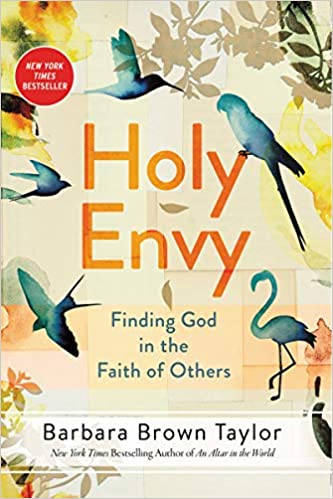 This book study begins May 3, 2020 only on Zoom.
In "Holy Envy", Barbara Brown Taylor writes about her many years of experience teaching Religion 101, World Religions, as an introductory religion course at a small private college in northern Georgia. Her course covers Christianity, Judaism, Islam, Hinduism and Buddhism, leaving out a huge number of other, smaller religions. The book title refers to characteristics of religions other than her own Christianity that cause her envy. As an ordained Episcopal Priest with years of leading local parishes, she has a perhaps too solid foundation in her own religion. Seeing others, and teaching them to college students has shown her a new view of how religions can and should work in the world.
This is not my usual content for study books, as you can easily see by looking through this website. It was recommended by one of our readers and will be a good book for our group to work on over a Zoom connection while we shelter in place awaiting the end of the COVID-19 virus pandemic. At least we won't be killing each other between computer screens as we might have done sitting next to each other in a small living room. Another difference in this book study is that we will be using a study guide by SmallGroupGuides.com rather than my usual questions. I want to see what kind of difference this makes.
Unfortunately, there will be no cookies….